Manage large volumes of Real Estate efficiently with Anacle' s Simplicity
Charoen Pokphand Group (abbreviated as C.P. Group), a conglomerate comprising multiple business entities operating in different industries under one corporate group.
Charoen Pokphand Group Co., Ltd. serves as a parent company of C.P. Group. As a holding company, Charoen Pokphand Group Co., Ltd. holds shares of subsidiaries in Thailand and overseas. The Group operates across many industries ranging from industrial to service sectors, which are categorized into 8 Business Lines covering 14 Business Groups. Currently, the Group has investments in 21 countries and economies.
Project Blossom
Recently Charoen Pokphand Group moved to purchase the retail powerhouse Tesco Asia. With more than 1,900 stores, eight distribution centers, and two hubs spread across Thailand and Malaysia, Charoen Pokphand Group needed a reliable property management system to handle the 40,000+ leases and 2000+ tenants across Thailand.
As part of the technological transformation process, Project Blossom undertook the migration from Tesco MRI to CP Lotus Simplicity. Since Tesco's MRI system was due to expire at the end of July 2022, the project schedule was planned for the system to go live before June 2022 to minimize disruption to operations and to ensure all the malls are implemented with Simplicity Tenant and Finance Management Suites to carry out day-to-day operations seamlessly before the MRI system was decommissioned.
Within 10 months, the Anacle Project Team completed phase 1 of the project to roll out Simplicity to over 2500 malls that included 40,000+ lease contracts. The team also laid out processes to kickstart plans for phase 2 and phase 3 to move the rest of the malls into Simplicity in less than 12 months.
By deciding to implement Simplicity Tenancy Management Suite and Simplicity Finance Suite, CP Lotus business is able to customize complex business processes to improve operational efficiency with Simplicity proprietary "Easy-to-Use" user interfaces and in-depth real estate industry standard functionality built based on 10-years of domain knowledge expertise of leasing and lease accounting methodology.
CP has decidedly invested in scalable and customizable future-proofed software which grows with the customer and the business as Simplicity Framework is built on the latest technologies such as .NET, MSSQL and other mainstream technologies.
Delivered Functions and Modules
Simplicity® Financial Management Suite
Simplicity® Tenancy Management Suite including workflow management
Simplicity® Utility Contract Management Suite
Simplicity® 2D Mapping standard feature
Customized Upload features for Tenant POS and Playland
Interfaces to Other Systems – MBAS, e-Tax Portal, Online Meter, Meter reading, CS&M, and Oracle Finance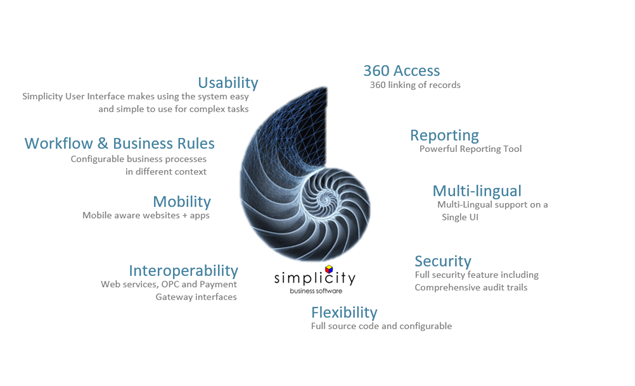 Benefits and System Improvements
Usability – Simplicity® User Interface makes using the complex system easy and simple to use
Workflow and Business Rules – Configurable business processes for different mall formats to improve CP operational efficiency.
360 Data Access – Simplicity® 360 view of all master and transactional records provides on-time real time data to aid accurate and fast business decision making processes.
Reporting – Simplicity® Report framework allows slicing and dicing of standard and customized reports for users to manipulate and understand information at their fingertips.
Multi-Lingual – Simplicity® functions and suites support multi-lingual and CP labels and reports are translated into the Thai Language.
Security – Simplicity® User Access Management System structured into Business Roles and Access Matrix seamlessly and integrated with CP Single Sign On system to allow required, secured and controlled access to data.
Interoperability – Simplicity® Integration suites allow the system to integrate and interface to various external systems to extend data from and to the other systems. Some of the Interfaces are Simplicity® to Bank Payment Gateways via API, Meter Reading App via API, Oracle Fusion via SFTP protocol, Tax Submission System via SFTP Protocol, Single Sign on System via API and POS Sales System via SFTP protocol
Automated Finance Billing Process – Simplicity® AR/AP functions allow users to automatically schedule and generate financial documents and perform batching processes and dissemination to all customers at a periodic frequency.