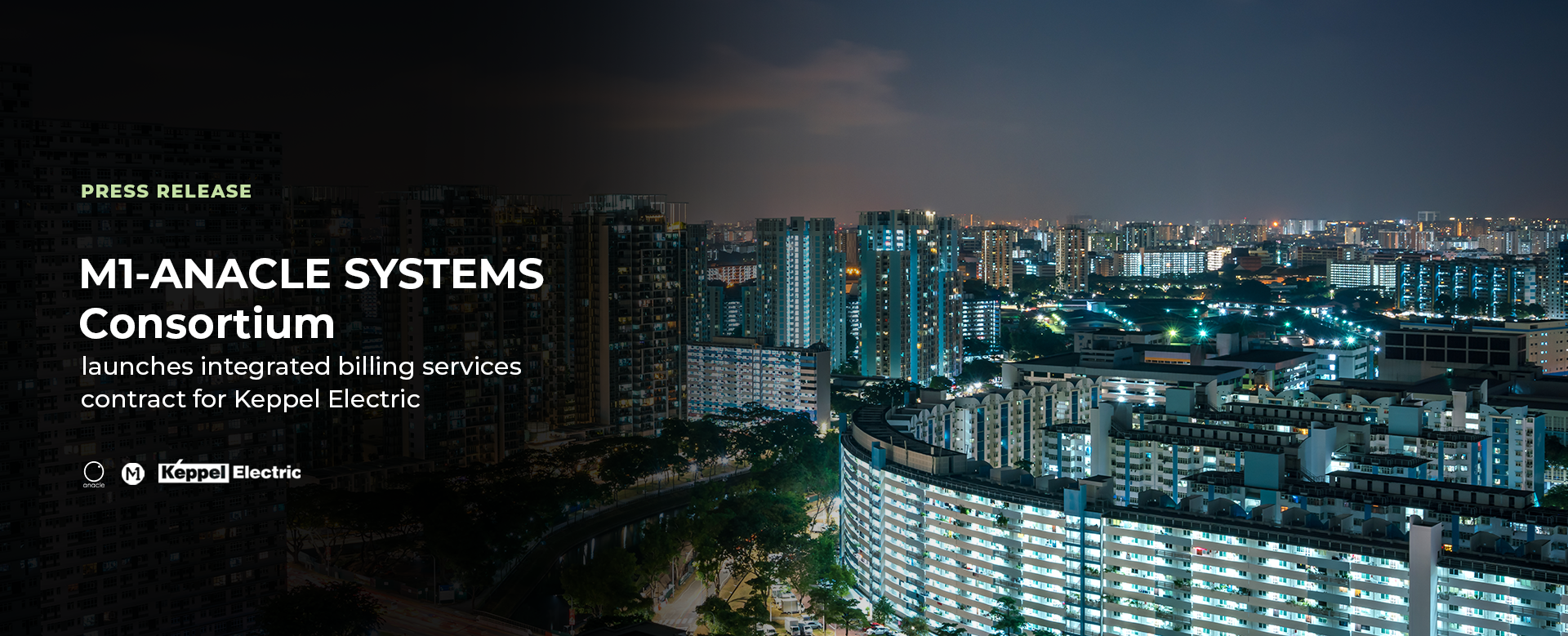 SINGAPORE – Keppel Electric Pte Ltd ("Keppel Electric"), Singapore's leading electricity retailer has selected M1 Limited ("M1") to provide integrated billing services for their Open Electricity Market ("OEM") domestic customers, leveraging on Anacle's myBill® Revenue Assurance Platform.
Through the arrangement with M1, Anacle's myBill® software will be managing more than 150,000 utility billing accounts from Keppel Electric, who has the largest market share of the OEM.
Anacle's myBill® Revenue Assurance Platform is an ISO-27001 certified cloud based platform providing full-featured revenue assurance services for the utilities billing industry in Singapore. It is the second largest SaaS revenue assurance platform specialized for the OEM, with more than 100,000 residential and commercial accounts.
A powerful, comprehensive and flexible platform specialized for the utilities billing industry, myBill® provides automated support for both Low Tension and High Tension contract billing, as well as the widest possible range of pricing structures, including Discount Off Tariff ("DOT"), Slab Tariff, Combination Tariff, coupled with promotion programs and cross-bundling.
Keppel Electric Pte Ltd

As Singapore's first home grown electricity retailer, Keppel Electric has 22 years of experience in powering Singapore's electricity grid. We have served over 30,000 satisfied clients including multinational companies, small and medium sized enterprises, government bodies and residential consumers.
With the launch of the Open Electricity Market in April 2018, we want to extend the same reliable experience to you. We are committed in delivering competitive electricity plans that best meet your everyday needs. Bringing you greater value, flexibility, convenience and reliability.
M1 Limited
M1, a subsidiary of Keppel Corporation, is Singapore's first digital network operator, providing a suite of communications services, including mobile, fixed line and fibre offerings, to over two million customers. Since the launch of commercial services in 1997, we have achieved many firsts – becoming one of the first operators to be awarded one of Singapore's two nationwide 5G standalone network license, first operator to offer nationwide 4G service, as well as ultra high-speed fixed broadband, fixed voice and other services on the Next Generation Nationwide Broadband Network (NGNBN).
We offer a wide range of mobile and fixed communication services to our consumers, and deliver an extensive suite of services and solutions to our corporate customers which includes symmetrical connectivity solutions of up to 10Gbps, managed services, cloud solutions, cybersecurity solutions, Internet of Things and data centre services.
We collaborate closely with our shareholders Keppel Corporation and Singapore Press Holdings Limited to achieve operational synergies that strengthen our position as an established communications provider in the market.
About Anacle Systems Limited
Anacle Systems Limited (8353.HK) focuses on providing high quality and cost-effective software solutions for the asset management and revenue assurance industries. We believe that our clients must always be able to achieve visible results and direct value from our work, and that technology is an important component of our effort. Our consultants specialize in effective process engineering and change management, with a specific focus on measurable deliverables.  Founded in 2006 and listed in the Hong Kong Stock Exchange in 2016, we have a staff strength of over 200 professionals in 3 offices (Singapore, Hangzhou and Pune). We support customers throughout all areas of Asia, including Southeast Asia, Greater China, India as well as the Middle East.