SINGAPORE – February 2018 – Anacle Systems Limited ("Anacle") and Enjoytown (Hangzhou) Holdings ("Enjoytown"), a township developer based in Hangzhou, China have signed an agreement to develop a smart township management system.
The partnership intends to develop a comprehensive smart city solution platform, allowing cities to operate and manage themselves seamlessly, from enforcing security to ensuring power stability as well as maintaining and automating services and infrastructure.
With growing emphasis on carbon density and clean energy as well as the looming deadline to cut carbon density up to 45% by 2020 (relative to 2015), an intelligent township solution can enable the local governments and even the residents to proactively manage their energy consumption, eventually driving a mindset shift among the population.
"The population and the local governments are very enthusiastic when it comes to new technology, and they are keen to integrate intelligent assets into their daily lives. Smart homes are the norm in China." said Alex Lau, CEO of Anacle.
This partnership not only marks a milestone for Anacle with its solution offering implemented on a macro-scale, but also acts as a bridge for future bilateral collaboration between enterprises in Singapore and China.
Mr. Lee Suan Hiang, Chairman of Anacle and former Deputy Managing Director of the Economic Development Board (EDB), said "Hangzhou in her "Qiantang River Era" holds more room for development than twenty years ago when I accompanied Mr. Lee Kuan Yew on his visit. Hangzhou's macro environment and its innovative knowledge base are very suitable for tech companies to settle down, making it the natural choice to set up Anacle Asia Research and Development (R&D) Centre and Joint Venture Company."
Accompanied by Mr. David Xu, CEO of Enjoytown and Mr. Wang Yubo, Senior Consultant, the Anacle delegation visited enterprises and science parks in the Shenzhen Yangtze River Delta region and met up with Zhejiang Supcon information Co.,Ltd to discuss on the potential of partnership venture.
Mr. David Xu, CEO of Enjoytown said "Since 2013, Enjoytown has been exploring new routes to urbanization through replicating the Singapore development model with local industrial development. In this era of interconnectivity, small town enterprises need to be well acquainted with big data and internet of things." He shared his excitement on the partnership, describing Anacle as the dynamic innovative partner, Supcon as the science and technology horsepower, and Enjoytown as the sleek business partner, adding "The sparks which will result from this partnership will be phenomenal".
The partners have plans to develop smart township systems which can be easily implemented and look forward to developing two satellite towns in Singapore and Zhejiang, reinventing the "Tale of Two (Smart) Cities".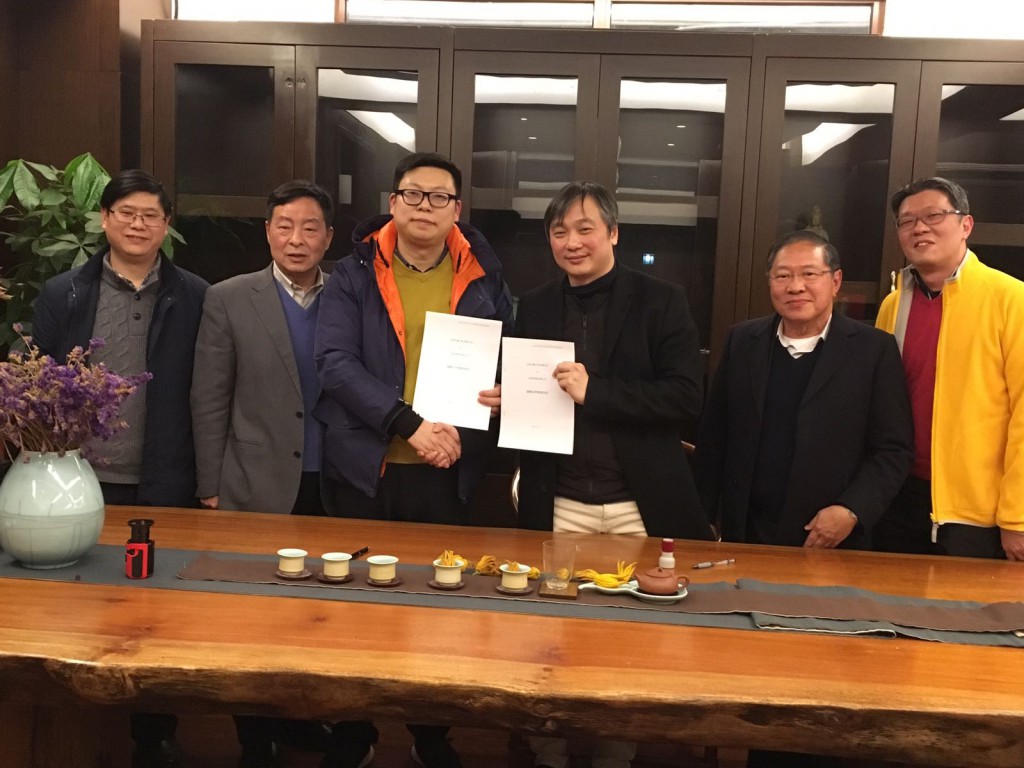 Anacle and Enjoytown signed Master Agreement. Enjoytown CEO, Mr David Xu (third from left), Anacle CEO, Mr. Alex Lau (third from right), Anacle Chairman, Mr. Lee Suan Hiang (second from right), Anacle Chief Consultant, Mr. Ho Hai Aik
Media Contact     Wendy Lim   |  Tel: 6914 2666   | Email: wendy.lim@anacle.com
About Anacle Systems Limited
Anacle is a leading provider of commercial property management software and building energy management system in Singapore. Anacle is accredited by the Infocomm Media Development Authority (IMDA) under the Accreditation programme which provides an independent and rigorous third party evaluation of the company's core capabilities such as product functionality, financial management and operations. The accreditation affirms the quality, business sustainability and scalability of Anacle's products.